World Series live blog: Nationals, Astros tied 2-2 after 5th inning
Fifth inning - Pitchers' duel continues, Game 2 tied
Game 2 of the World Series remains tied at 2-2 after five innings - like it has been since both teams scored in the first.
Even while getting runners on base every inning, the Nationals have gotten only one of them past first off Justin Verlander since Anthony Rendon, the third batter of the game, had a two-run double.
After Trea Turner had a leadoff single in the Washington fifth, Adam Eaton grounded into a double play. Shortstop Carlos Correa fielded the hard grounder right near second, stepped on the bag and threw to first.
Verlander has thrown 56 of his 83 pitches for strikes. His five strikeouts have pushed his postseason career total to an MLB-record 201, and he has walked two.
Washington starter Stephen Strasburg has six strikeouts without a walk. He has allowed only three more hits since Houston had three consecutive one-out hits in the first. He has thrown 56 of 86 pitches for strikes.
Come back here for inning-by-inning updates and social media highlights as the game goes on.
You can watch all the 2019 World Series action on FOX 5.
Fourth inning - Verlander, Strasburg settle in through 4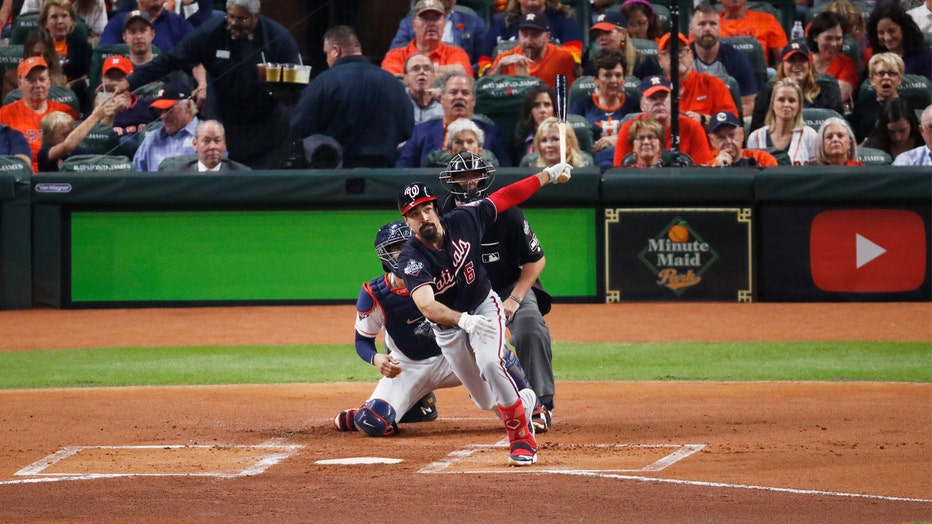 Justin Verlander and Stephen Strasburg both have settled in nicely through four innings. They haven't given up a lot since each gave up two runs in the first.
Aiming for his first World Series win, Verlander at least ensured his place on future blooper reels. Rushing to field Ryan Zimmerman's tapper toward the third base side, he slipped - he tried to make a throw, but it hit his left leg and harmlessly bounced away, giving Zimmerman an infield single.
The veteran pros each smiled. Even in a tense matchup, it's still a kid's game.
Come back here for inning-by-inning updates and social media highlights as the game goes on.
You can watch all the 2019 World Series action on FOX 5.
Third inning - Game still tied 2-2
Houston threatened in the third inning, putting runners at the corners. Shortstop Trea Turner bobbled and then bounced his throw to first for an error on José Altuve's two-out grounder and Michael Brantley singled to right.
Alex Bregman grounded to shortstop on the next play for a forceout.
Washington's Stephen Strasburg gave up four hits in the first three innings, striking out four and walking none. He threw 58 pitches: 25 two-seam fastballs, eight four-seamers, 15 curveballs and 10 changeups.
Houston's Justin Verlander was at 51 pitches through three innings throwing 24 fastballs, 18 sliders, eight curveballs and one changeup. He allowed four hits and one walk with four strikeouts.
Washington's Juan Soto, playing his last game as a 20-year-old, doubled with two outs in the third for the Nationals' fourth hit. Soto was stranded when Howie Kendrick popped out, dropping the Nationals to 1 for 5 with runners in scoring position.
Second inning - Game remains tied 2-2
Justin Verlander has become the first pitcher with 200 career strikeouts in the postseason.
The Houston Astros starter has four strikeouts through the first two innings against the Nationals, and the game is tied at 2-2.
After the first three Nationals in the game reached base, and two of them scored, Verlander struck out four of the next six.
John Smoltz, the big right-hander who was working the game on the Fox television broadcast, had been the postseason leader with 199 strikeouts.
Washington starter Stephen Strasburg has three strikeouts through the first two innings.
First inning - Game tied at 2-2 after one inning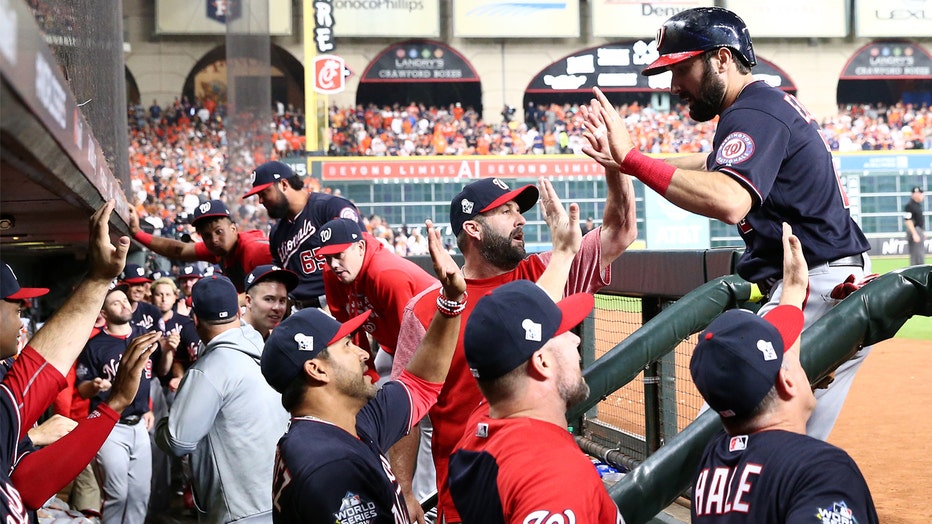 Game 2 is off to a flying start.
Anthony Rendon got things going, putting the Nationals ahead with a two-run double high off the left field wall against Justin Verlander.
Alex Bregman then tied it in the bottom of the first inning, hitting a ball even higher and farther to left. The two-run homer off Stephen Strasburg made it 2-all.
So much for an ace pitching duel, so far.
Previous coverage
The Washington Nationals are looking to bring a World Series Championship home for the first time since Major League Baseball returned to the nation's capital.
Game 2 of the World Series featuring the Washington Nationals and the Houston Astros is set to get underway at Minute Maid Park.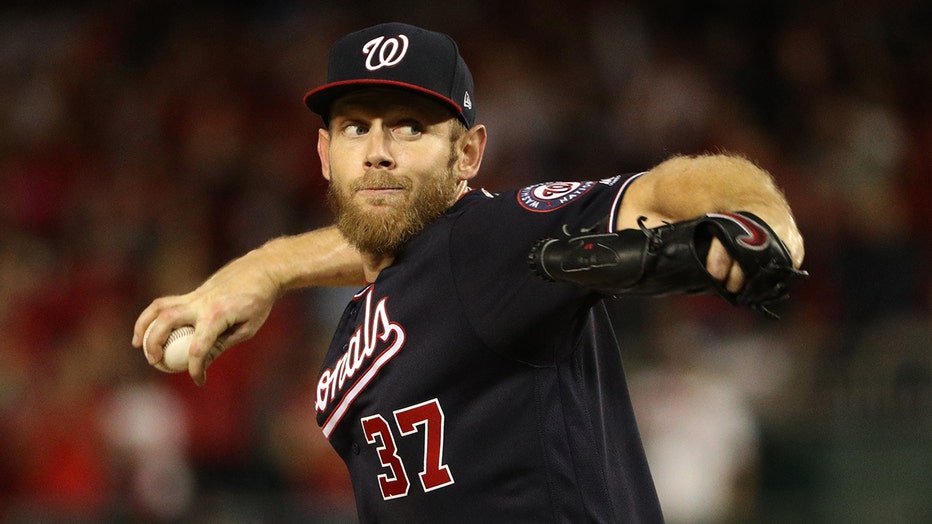 With a win tonight, the Nationals would return to D.C. with a two-game lead in the series. On Tuesday, Washington beat the Astros 5-4 in Houston.
Game 1 featured two of baseball's premier starters in Washington's Max Scherzer and Houston's Gerrit Cole. Game 2's pairing will be no less stellar as Stephen Strasburg takes to the mound for the Nationals, and Justin Verlander starts for the Astros.
The Nationals advanced in the National League playoffs by beating the Milwaukee Brewers 4-3 in the National League Wild Card game and then toppling the Los Angeles Dodgers in the NLDS 3-2.
Washington reached Major League Baseball's premier event by sweeping the St. Louis Cardinals in the NLCS.
The Houston Astros enter the series just a couple of years removed from winning the 2017 Championship.
This year, they won the American League by beating the Tampa Bay Devil Rays in five games in the ALDS, and the New York Yankees 4-2.
Previous coverage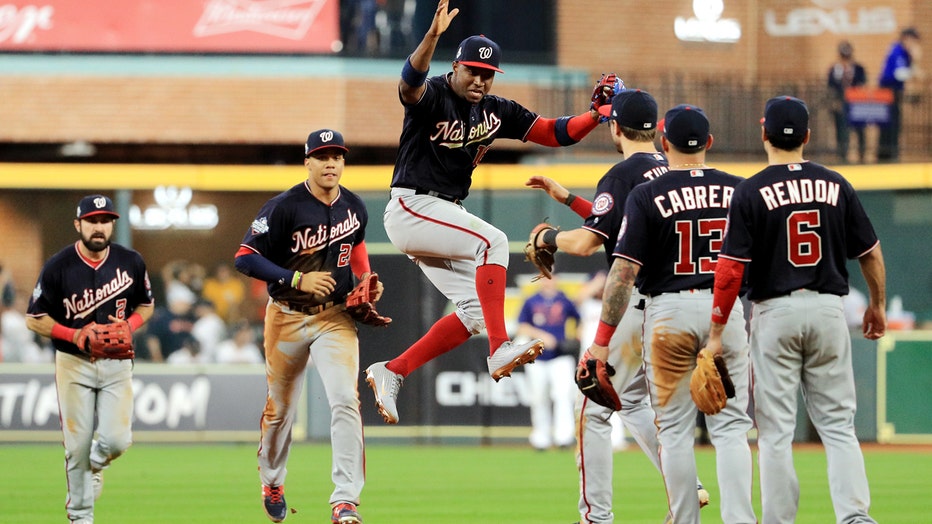 The Washington Nationals will look to take a two-game lead on the road tonight when they face the Houston Astros for Game 2 of the World Series.
On Tuesday night, 20-year-old Juan Soto led the Nationals at the plate, going 3 for 4, including a home run and a two-run double.
Observers and analysts have made much of the pitching matchups featured in this series. For the Washington Nationals, Stephen Strasburg will take the mound. He was 3-0 with a 1.64 ERA in the NL playoffs. He went 18-6 and set a career-high for wins during the regular season. He's pitched once in Houston, throwing six scoreless innings in 2017.
Justin Verlander will be on the bump for the Astros. Verlander is 0-4 with a 5.67 ERA in five World Series starts. He got this far with Detroit in 2006 and 2012 and the Astros in 2017. Verlander led the majors with 21 wins this year and struck out 300.
Here's what else you need to know for tonight's game:
WHEN AND HOW TO WATCH ON TV:
You can watch all the action on FOX 5. Our pre-game coverage begins at 6:30 p.m. and the first pitch is slated for 8 p.m. Planning to attend the watch party at Nationals Park? Find details about the event here.
PITCHING PROBABLES:
Washington: Stephen Strasburg (18-6, 3.32 ERA in the regular season)
Houston: Justin Verlander (21-6, 2.62 ERA in the regular season)
WORLD SERIES:
Washington leads the series 1-0
BOTTOM LINE:
Stephen Strasburg and the Nationals will take a 1-0 series lead into Game 2 of the World Series. The Astros are 60-21 in home games. Houston has a team batting average of .213 this postseason, Jose Altuve has lead them with an average of .333, including eight extra-base hits and eight RBIs. The Nationals are 43-38 in road games. Washington has a team slugging percentage of .389 this postseason, Juan Soto leads them with a mark of .548, including five extra-base hits and 10 RBIs.
REGULAR SEASON TOP PERFORMERS:
Alex Bregman lead the Astros with 41 home runs and had a slugging percentage of .592. Anthony Rendon lead the Nationals with 174 hits and had a .319 batting average.
LINE-UPS FOR TONIGHT'S GAME
1.) Trea Turner, SS
2.) Adam Eaton, RF
3.) Anthony Rendon, 3B
4.) Juan Soto, LF
5.) Howie Kendrick, DH
6.) Asdrubal Cabrera, 2B
7.) Ryan Zimmerman, 1B
8.) Kurt Suzuki, C
9.) Victor Robles, CF
Pitcher: Stephen Strasburg
1.) George Springer, CF
2.) Jose Altuve, 2B
3.) Michael Brantley, LF
4.) Alex Bregman, 3B
5.) Yuli Gurriel, 1B
6.) Yordan Alvarez, DH
7.) Carlos Correa, SS
8.) Robinson Chirinos, C
9.) Josh Reddick, RF
Pitcher: Justin Verlander
You can watch all the 2019 World Series action on FOX 5.
The Associated Press contributed to this article
backtoschools.net sport World Series live blog: Nationals, Astros tied 2-2 after 5th inning
Related News
Fourth inning - Verlander, Strasburg settle in through 4 Justin Verlander and Stephen Strasburg both have settled in nicely through four innings. They haven't given up a lot since each gave up two runs
ST LOUIS (LALATE) - Nationals vs Astros 2019 (live score results below) is heating up game two World Series results tonight. Btu can the Nats pick up another win? Nationals vs Astros are currently in
After an impressive win over Gerrit Cole and the Astros in Game 1 of the World Series on Tuesday, the Nationals went right back to work in Game 2 on Wednesday. They
CLOSE SportsPulse: The Astros had home field, the best pitcher on the planet and the experience. As Trysta Krick details, someone forgot to tell Juan Soto. USA TODAY The precocious hero in Game 1
Matt Slocum | AP HOUSTON - Juan Soto and the Washington Nationals quickly derailed the Cole Express. A 20-year-old prodigy with a passion for the big moment, Soto homered onto the train tracks high
Baseball fans everywhere are talking about Juan Soto, the Washington Nationals nearly 21-year-old slugger and the team's hero in Game 1 of the World Series on Tuesday night. Soto got the best of Houston Astros
The Houston Astros will look to even things up when they take on the Washington Nationals in Game 2 of the 2019 World Series. The Nationals (93-69), who qualified for the postseason as a wild
More News in Sport
Rio de Janeiro (AFP) - Hotshot Gabriel Barbosa scored a brace as Flamengo hammered fellow Brazilians Gremio 5-0 on Wednesday to secure a place in the Copa Libertadores final against Argentine holders
Kyrie Irving scored 50 points in a record-setting Nets debut, but lost his balance and missed a potential winning shot that allowed the Minnesota Timberwolves to pull out a 127-126 victory over Brooklyn in overtime
Gabriel of Brazil's Flamengo celebrates after scoring his side's 3rd goal during a Copa Libertadores semifinal second leg soccer match against Brazil's Gremio at the Maracana stadium in Rio de Janeiro, Brazil, Wednesday, Oct. 23,
There were no three-point attempts for Ben Simmons in a game where both teams were atrocious from long-range but as far as statement games go this was what Philadelphia fans were looking for first-up from
Gabriel 'Gabigol' Barbosa led the way as Flamengo routed Brazilian rivals Gremio 5-0 to reach the Copa Libertadores final. Gabigol scored twice at the Maracana in Rio de Janeiro, where Flamengo cruised to a 6-1 aggregate
CLOSE NEW YORK - Kyrie Irving was into his bag of tricks early in Brooklyn's season opener against Minnesota. He had 12 points in the first quarter, 13 in the second, five in the third,