Contestant Kisses Neha Kakkar on Indian Idol 11, Anul Malik-Aditya Narayan Left Shocked - Viral Video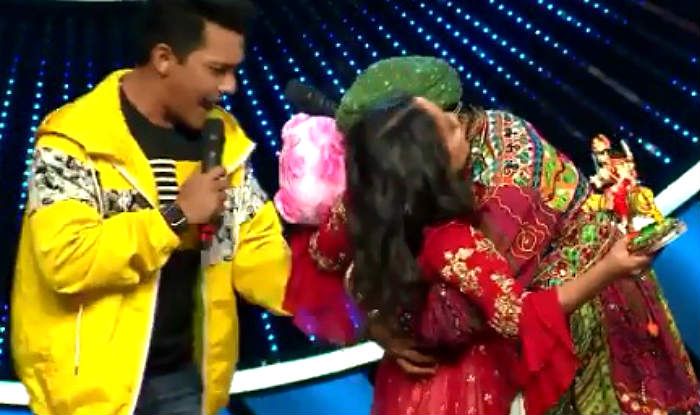 Singers Neha Kakkar, Vishal Dadlani and Anu Malik have teamed up once again to judge the latest season of popular singing reality show Indian Idol. Currently, the auditions are being aired on the channel and the audience is getting to see various interesting contestants impressing the judges with their soulful voices. However, the latest promo of the next episode shows a contestant going over-the-board with his affection towards Neha.
As revealed in the video, the contestant, dressed up in a traditional Rajasthani outfit, brings a teddy bear and other gifts for Neha on the stage. Impressed with his efforts, Neha comes on the stage to meet him and thank him loving her this much. Next, he takes Neha's hand and tells her how much he loves her and also asks her to marry him. Only when the rest of the judges and host Aditya Narayan slowly observe him, he takes Neha in his arms and kisses her on a cheek. This makes Anu Malik drop his jaw. Even Vishal and Aditya are seen left in shock while Neha is seen hiding her face in awkwardness. Check out the promo here:
Last week, all the contestants dazzled you with their soulful and powerhouse singing but this week is going to be even more mesmerizing. Watch #IndianIdol Sat-Sun at 8 PM. #EkDeshEkAwaaz. @iAmNehaKakkar @The_AnuMalik @VishalDadlani pic.twitter.com/l2yfIfv7X2- Sony TV (@SonyTV) October 17, 2019
It is not yet known whether it's a promotional gimmick by the makers or someone really behaved inappropriately with Neha. However, the video has surely sent the fans of the show in a tizzy. Indian Idol 11 has attracted many talented singers from across the country. The audition-special episodes are witnessing tremendously talented participants one after another. It will be interesting to see how does the season fare in terms of the TRPs considering the last season appeared a total hit and fetched soaring TRPs for the channel.
backtoschools.net india Contestant Kisses Neha Kakkar on Indian Idol 11, Anul Malik-Aditya Narayan Left Shocked - Viral Video
More News in India
Editorial (Photo by Craig Barritt/Getty Images for St. Jude Children's Research Hospital) Actress Jenna Dewan admitted she was "blindsided" by ex-husband Channing Tatum's new romance. Dewan revealed was shocked to find out that Tatum had
Entertainment (Photo by Mike Coppola/Getty Images) Dave Chappelle got everyone's attention Friday when reports started surfacing that the famous comedian was planning to make several surprise shows this weekend in Texas. Fans of the 46-year-old
Business (Shutterstock/tomkawila) Johnson & Johnson (J&J) recalled a single lot of baby powder on Wednesday, citing concerns that it may contain asbestos. This recall comes after an FDA test revealed sub-trace amounts of chrysotile asbestos
WASHINGTON: Fat can accumulate in the lungs of people, particularly those who are overweight or obese, researchers have shown for the first time. Scientists already know that people who are overweight or obese are more likely
The release of Quentin Tarantino's Once Upon a Time in Hollywood in China has reportedly been put on hold. The film was scheduled to release in the country on October 25 after it received a go-ahead
The first teaser for The Outsider is out. The miniseries is based on Stephen King's 2018 novel of the same name, and boasts of a solid lead cast with names like Jason Bateman, Ben Mendelsohn